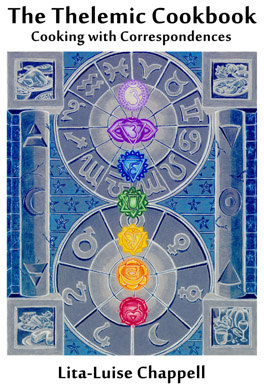 Pages
Where to Purchase
From the Foreword by Carolyn Tillie
Lita has an innate ability to weave the magic of food to create a positive outcome, and anyone who has attended an event that she has catered will understand this about her.
What you are holding in this collection of recipes is more than a mere cookbook. The meals themselves are rituals. Each menu is a complement to the greater ritual or celebration being held.
Beyond the simple recipe is an expansion of thought into why certain foods work well together, how they work with a specific ritual, and the magical correspondences that have never before been fully laid out in such a concise and understandable form. What preparing many of these recipes will do for you is inwardly tap the collective unconscious—or the collective wisdom—whereby one's personal knowledge brings growth.
This collection of menus will not only guide you in how to prepare an exceptional meal, but will give important direction on developing magical menus of your own through Lita's expansive correspondence lists. It is an invaluable collection, not only of exceptional recipes (and I speak from experience on that accord!), but also of the knowledge imparted therein. You are about to set forth on an amazing experience in these pages. I envy those who will begin experimenting with food magic for the first time; it is a lovely and positive path to explore and one that can provide years of joy—from the simplest appetizer to the most complicated dessert. Cook with love, cook with intent, and cook with magic. To quote St. Julia, "Bon Appétit!"
---
✰✰✰✰✰ A Triumph!
By Taren Robinson
September 21, 2015
Whether you are new to cooking or an old hand, this wonderful cookbook is sure to take you on an adventure you never would have imagined. I have been studying Thelemic Magick for 11 years now and have been an avid student of cooking and culinary technique for the last 20 years of my life. So needless to say I was very excited to hear that this book was being written. Lita Chappell's greatest triumph with this book is its heart. Whether you are in awe of the fantastical dishes like Chicken Pate en Croute with Escargot en Croute or the Black-Eyed Pea Fritters with Mint Sauce that make you feel like a contestant on Master Chef, or whether you are delighted by the elegant simplicity of the Leo Fruit salad, or the nostalgic charm of the Prophet and His Bride Anniversary Cake, it is the balance of the refined and gourmet sensibility of a 5-star restaurant with the charisma and exuberance of a theme party that make this cookbook a masterpiece.
Just as the Law is for all, so too are the delicious dishes presented in this cookbook. Lita Chappell maintains the most important aspect of this kind of a cookbook, love. All her menus speak directly from their source, that of feeding and nourishing her friends and family. The recipes in this book present many exciting challenges and may well push the palate of those who mightn't have been adventurous up to now, but all who pick up this amazing cookbook will be compelled to rise to the challenge just by reading the menu, for Lita makes it all sound so wonderful just from off the page.
Her directions are clear and concise, the layout is brilliant for those who might be trying to read through the steam rising from pots on the stove, and the resources given in the Retailer's List are wonderful and a true God-send. Not to mention the extremely helpful tips and advise peppered throughout the book for some of the trickier recipes. The Piece de Resistance and crowning jewel of the work is the remarkable system of correspondence Lita has developed and lists for all of the foods contained in each recipe. Lita-Luise Chappell has truly set herself among giants in the world of magical scholarship for this work alone, with the attention to detail and pioneering work, to stand on the shoulders of those who have come before and to reach a realm all her own.
Lita has given the world an amazing addition to our practices as Magicians and because of it "as much as meat and drink are transmuted in us daily into spiritual substance" the Miracle of the Mass will never taste the same! The one disappointing note is that correspondences are only given for those items used in the book. Lita-Luise has decided to keep the full list of correspondences from publication, however, one cannot blame her; a Lady, and just as well, a Chef cannot be expected to reveal all her secrets. If you love food and you love Magick this book will synthesize those passions to bring forth an ecstasy that can only be answered by the beauty of love and fellowship as Brothers and Sisters feast and rejoice together. Here's hoping there will be a volume 2!
---
✰✰✰✰✰ Masterpiece of Magickal Feasting!
By Kim Makoi
September 25, 2015
Wowee… this book is AMAZING!!! I didn't even know how badly we needed it until it appeared! Thelemic holidays already tend to be a bit under-celebrated so it has been challenging for me to come up with delicious ways to celebrate them. Lita-Luise Chappell has truly created a masterpiece of cooking with magickal correspondences. In this book, she offers suggestions for menus for all of the major Thelemic feasts, including handy tips on where to buy the best ingredients – super helpful for obscure ingredients such as marigold tea or dried wisteria blossoms – as well as some historical background concerning the feasts and why certain foods may be apropos. The recipes range from very simple and classy – like buttered parsnips – to fairly complex (for a kitchen noob like myself) and still classy, like rhubarb cake with Brazil nuts and rhubarb sauce! No idea what the heck Thelema is or why you would ever want to cook with its feasts in mind? Never fear – just skip to page 257, and you will still have 393 interesting pages full of recipes and feast menus relating to the seven classical celestial spheres, the twelve astrological signs and the seven classical chakras! This book deserves a spot on every magician's kitchen shelf! (Just make sure it's a strong shelf – this is a big book!!!) The scholarship, love and experience that went into this book is incredible. Worth every cent. (Heck, I will even buy it again when/if it comes out in searchable Kindle format!)
---
✰✰✰✰✰ Five Stars
By Angela Quezada
September 29, 2015
I LOVE IT SO MUCH, THANKS!
---
✰✰✰✰✰ Five Stars
By Sabrina
October 14, 2015
This book is nothing short of fantastic! The correspondences are all meticulously researched, the recipes are amazing…it's a must have for any Thelemite involved in feast planning!